"Wide sky big breaks; Michigan, Great Lakes;
Cattle rattle, snowflakes, Georgia beaches.
Louisiana harpoon, New York attitude, Florida beaches.
Tennessee whiskey; Diddy, are you with me?
Texas chili, Virginia pine.
It's hard to beat that California sunshine.
Baby, you're my favorite,
Favorite state of mind."
-from "Favorite State of Mind"
May already and I really didn't update in April, how bad I have been! At least I can say, I've been very busy "living" to not have a lot of time to "document" it. But enought is enough and it's finally time to give this my attention. So, here's the current scoop:

My sisterMary spent her hard-earned money and visited for a week in April. It was the highlight of my month, and I did not expect to grieve like I did when she left. It was seriously some sort of depression to b left all alone again (during the day) and not have my friend to be doing stuff with! However, I learned to be joyful and content again and God already worked out my family to come visit in May during my birthday too! So I only had a month to wait! That was a tremendous blessing!
Jonathan and I had a large group of friends at our home for Easter, all unsaved friends we were opening up our home to share God's love with. It was a great time, and we continue to be excited about all the opportunities God has given us to daily interact with those who need Jesus. We pray & attempt to meet their physical needs like Jesus did so tha topportunity will open up to meet their spiritual needs when they become apparent, by demonstrating true love. We love being in a church that emphasises so strongly personal ministering to those in your sphere of influence. :)
Life Group at church is still wonderful! Our church had baptisms yesterday and 17 people were baptised! It was special to watch those in their 30's all the way down to 9 year olds. We had a nice picnic and had lots of fun fellowshipping and playing with all the kids!

Jonathan and I had all Friday to hear briefs from crews of all the aircraft he can go to, as well as to actually walk on the aircraft and see exactly what it looks like (all but the B-52, since the runway's not big enough at Randolph). It was extremely enlightening, ang I got to sit in the cockpit of one of these (F-15E Eagle):

Makes me understand why Jonathan would want that more than an y other! However, it's not an option, they must have just had it there for fun. :) With all the wisdom we have, he's leaning toward B-52's (Bombers) or KC-135's (air refulers).
Heres's a B-52 Bomber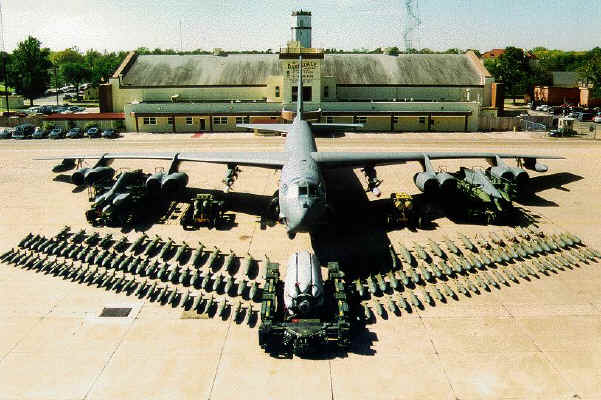 Here's a KC-135 refueling:

So maybe you don't think all these pics are cool, but they are to me!!!
Now, May should be a busy month, too. Jonathan's siblings (sans Emily) will be coming to visit for 6 days and then 4 days later my family comes for a week! So we'll have wonderful times and a full house in May! That is extremely exiciting!
Have I mentioned that I love the United States? I do. Just living different places makes me aware of how different God made even just one continent. He gave us beautiful mountains and the rolling hills of Virginia/NC with the kudzu and dogwoods and wonderful pines! He gave us the flat-straight land of Illinois with its acres of corn. He gave us the rugged, brown, full of live oaks and cactuses, mostly flat, dry area of Texas. I could name differences in every state, and that only covers one country! It's amaznig he's given Jonathan and me the opportunity to travel around and live all these different places! Just thinking about our next assignment stirs excitement in me for what it will be like.
And this will have to end my thought for today. Sorry there aren't any personal pictures. I have blackmail pictures of Mary, Jonathan, and me line-dancing in ridiculous clothes, but I'll resist posting those. :) Ok here's on of Jonathan & little Emerson (our CG leader's youngest girl).


Have a blessed May everyone, and keep seeking Christ! I close with this:
"And you, who were dead in your trespasses and the uncircumcision of your flesh, God made alive together with him, having forgiven us all our trespasses, by canceling the record of debt that stood against us with its legal demands. This he set aside, nailing it to the cross." Colossians 2:13,14